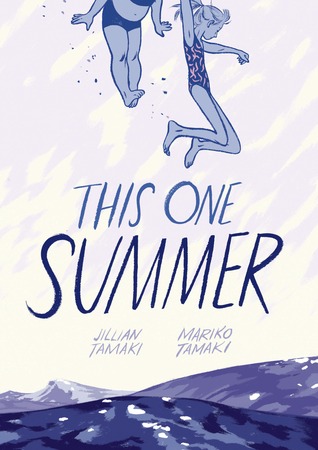 This One Summer
by Mariko Tamaki, Jillian Tamaki (Illustrator)
First Second 2014
ISBN: 9781626720947
Plot Summary
Rose and her friend Windy are away at the beach with parents, like they are every summer, where they can forget school and the troubles of home and enjoy the sea and the beach and just be kids. This summer is different though, as Rose realizes that she is growing up and this may be her last summer at the beach as a child. On the cusp of adolescence, she and Windy are moving at different speeds, Rose imagines herself as a more mature than her baby-fat faced friend of forever Windy, but Windy has a knack for following her instincts about people and situations that proves invaluable to the girls during this summer of turning corners.
Rose has a lot on her mind this year. Her parents are fighting but behind it Rose can see there is a lot of sadness and grief that she does not fully understand and is not sure she wants to. She has other things on her mind, like the cute clerk at the small beach town convenience store.  Rose is letting go of her childhood while she tries to hold on to the magic of being a child and coping with her mother's recent miscarriage but at the same time not really wanting to know all the details. A little grown up, but not too much.
By the end of the vacation, Rose has discovered that the boy at the convenience store really was not all that awesome on closure inspection and in fact was kind of a jerk. She has also learned that growing up does not mean letting go of everything childish or loosing your past. Rose has renewed faith in her friendship with Windy and decides it might be a good thing to continue to be friends like that, even if they are both older and wiser next year.  And every year after that as they plan their future summers.
Critical Evaluation
This story is visually rich and engaging, with quick dialog and indigo seascapes showing all the magic of a summer beach vacation. Rose's thoughts and memories of her life and her family are written out as margin notes to the reader and the occasional atmospheric two-page spread gives the feeling of looking out of a large window into Rose's world . The snippets of time passing are wonderful and the visual traits of the characters makes the story very expressive even without dialog. The body language is captured perfectly in this graphic novel.
Reader's Annotation
Another summer at the beach for buddies Rose and Windy, but this year things are different. On the cusp of adolescence, too young to be children but too young to delve deeply into emotional entanglements, Rose and her friend navigate the changes in themselves and their worlds, realizing for the first time that things will be different this summer and for all the summers ahead.
Information about the Authors
Jillian Tamaki is an illustrator and cartoonist living in Brooklyn, NY.  She grew up in Calgary, Alberta and graduated from the Alberta College of Art and Design.  Currently, she teaches in the illustration Department of the School of Visual Arts. She has been illustrating professionally since 2003. Her cousin, Mariko Tamaki lives in Canada and is also a writer.
Cousins Mariko and Jillian Tamaki have collaborated on this graphic novel for teens as well as another titled Skim.
Genre: Graphic Novel; Fiction
Awards: Winner of the 2014 Governor General's Literary Award for Children's Literature—Illustration; Finalist for the 2014 Governor General's Literary Award for Children's Literature—Text
Content Area:  Interpersonal Relationships-Family; Friendships; Adolescence; Romantic Relationships
Booktalk Ideas
There is a two-page spread on pgs. 182-183 showing Duncan on his bike. He is pedaling but because there are only two illustrations, it is hard to see the movement in the frames. I like to show this and talk about how the pages in a GN are laid out – how different frames, shapes and sizes can bring different components to the story from page to page.
Pgs. 173-176 are a terrific example of body language in this graphic novel. Windy wants to show Rose a dance move she learned at her camp and the frames that follow are funny and expressive, giving off her enthusiasm and pleasure in sharing this with Rose. Rose for her part laughs hysterically at these gyrations and leaves Windy feeling a little silly and exposed. It is a great sequence full of joy and silly awkward playfulness.
Text Measures/Reading Level:
Quantitative: Lexile Level: 300; ATOS Book Level: 2.4
Interest Level: Upper Grades (UG 9-12)
Age Range: 12 – 17 Years
Challenge/Defense: 
Always check the American Library Association website for strategies and tips in handling challenges to library materials at http://www.ala.org/bbooks/challengedmaterials/support/strategies
Additional/Digital Content:
Author/Illustrator Website: http://marikotamaki.blogspot.com/  http://jilliantamaki.com/
Why This Book?
I love to see new graphic novels and this book has received a lot of attention recently in my area. I had not heard of the authors or their other book, Skim, so I made an effort to read them both. The beauty in the drawings is reason enough, but the story in this book was particularly worthwhile.