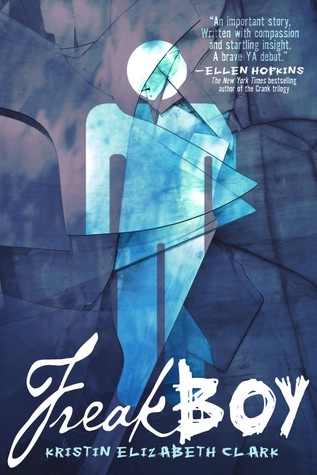 Freakboy
by Kristin Elizabeth Clark
Farrar, Straus and Giroux (BYR) 2013
ISBN 9780374324728
Plot Summary
Brendan, a young high school student who enjoys his place on the wrestling team and his pretty girlfriend, but is struggling with his gender identity. Is he a freak because he wonders what it would be like to have long hair and a female body? His girlfriend, Vanessa, loves him completely. In her mind, he is that guy that knows all her secrets – and she believes she has all of his too. They talk all night, kiss for hours, share jokes and quiet whispers, but they have been together now for a while and Vanessa is ready to take it to the next level. The cross-over into a sexual relationship for these two characters is intense and initially very positive and fulfilling for them both. Together they feel satisfied and  exhilarated, completely infatuated and immersed in each other – like a normal couple, young and in love.
The third character, Angel, has made the transition to be able to present herself as her gender identity (a girl) and she has found a purpose: completing her GED, and working at the Teen LGBTQ Center. Angel is tough and because she has already lived through the pain of transforming her outward gender identity, her voice brings a sense of realism and painful frankness into the mix. She is strong but vulnerable and she has the scars to prove that she is a fighter.
Through conversations and explorations, Brendan reaches out for help in untangling the emotional and physical confusion that has crept into his mind and his heart. Confiding in Angel, embracing his female identity as Larissa and taking baby steps in his gender examination, Brendan gradually gains some confidence and some bravery in who is really is and how to live with his identity. Being a transgender teen means living in a messy, uncertain and murky reality but Brendan is headed down a path to find out who is – inside and out.
Critical Evaluation
A novel in verse, Freakboy is the interwoven voices of three very different young people, Brendan, Vanessa and Angel, who each bring a very different perspective to a very intimate and emotional moment in a transgender person's identity exploration. The voices are woven together like a 3-part rope and each is necessary to bring about the emotional aspects of this book. Brendan is struggling with physical and emotional confusion as he realizes more clearly that his urges and fantasies are more than just passing notions. Vanessa has invested herself completely in a loving relationship with her boyfriend and has accepted him completely as she knows him, but she does not know everything she needs to.
Angel is the voice of experience and strength in this story. She does not have the answers, but she has asked the same questions as Brendan and she has fought her way through the maze of confusion and self-loathing and come out on the other side. Angel is a more obvious character in the story but a necessary one as the perspective offered through her voice is reflective and mature. She gives readers a view of the harshness and prejudice faced by transgender teens and describes in detail some of the physical and mental abuses suffered by these young people at the hands of peers, parents, and the public at large. Angel's stories are told in retrospect, which takes the edge off, but still illuminate the subject very clearly for the reader.
Reader's Annotation
Who we are on the inside and who we may be perceived to be on the outside can be two polar opposites. Maybe his new friend Angel can offer some tips from her own experience crossing over. Maybe Vanessa will love him for who he is on the inside no matter how he looks on the outside. Can Brendan, wrestling team star, in love with his girlfriend but questioning his gender, stop waking up every morning wondering if he is a freak?
Information about the Author
Kristin Elizabeth Clark lives and writes in the Santa Cruz Mountains of California. She has worked as a child advocate within the juvenile justice system, as a children's theater producer, and is a volunteer at Project Outlet in Mountain View, California.
Freakboy, published in 2013, is her debut novel and is written in a verse style similar to that of Ellen Hopkins.
Genre: Fiction; Verse
Awards: American Library Association Rainbow List Top 10 (2014), YALSA Best Fiction for Young Adults (Top Ten) (2014)
Content Area: Sexual Orientation; Transgender-Fiction; School-Senior High; Social Issues-Gender Issues; Family Issues
Booktalk Ideas
Pg. 134 has one of my favorite verses from Angel. "The Second-To-The-Last Present I Got" is an amazing piece written as two verses actually, one with a description of the physical rejection and beating Angel receives from her father, whom she refers to as the "Sperm Donor" when he finds her dressing up in heels and makeup on Christmas morning. He beats her and kicks her out of the house which is brutal but very realistic threat to young LGBTQ teens. But written within this verse is a second thread of words, carefully crafted for the reader to find along the way, "the  bite / of the belt / stings but / doesn't cut like words / Freedom." Powerful words that describe the pain of her father's rejection.
Text Measures/Reading Level:
Quantitative: Lexile Level: HL700; ATOS Book Level: 4.6
Reading Level: 12 – 17 Years
Interest Level: Upper Grades (UG 9-12)
Challenge/Defense: 
Discussions of gender identity, gender expression and social and sexual situations make this book likely for challenge. It explores topics that are sensitive to articulate, such as gender reassignment, romantic and sexual relationships and transgender teens, and homosexual relationships. Sensitive subjects for more mature readers.
Always check the American Library Association website for strategies and tips in handling challenges to library materials at http://www.ala.org/bbooks/challengedmaterials/support/strategies
GLBTRT Book Challenge resources and evaluation guidlines for LGBT materials for teens, go to the ALA website at http://www.ala.org/glbtrt/ and the GLBTRT website at http://isd.usc.edu/~trimmer/glbtrt/bibthemeslit.htm
Additional/Digital Content:
Author Website: http://diversityinya.tumblr.com/post/66187553645/5-things-kristin-elizabeth-clark-learned-while
Why This Book?
During one of my classes this term, we read Luna by Julie Anne Peters and focused our discussion on LGBTQ concerns in library collection development, free speech concerns and sensitivity to special populations' needs. I think the subject is very important and connects directly to the role of a library as a public space and a "safe haven" for those who seek it. Freakboy was one of the titles discussed in our class presentation and it sounded very unique.