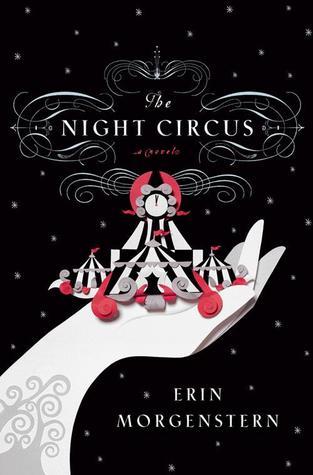 The Night Circus
by Erin Morgenstern
Doubleday  September 13th 2011
ISBN13: 9780385534635
Plot Summary
The circus arrives without warning. No announcements precede it. It is simply there, when yesterday it was not. Within the black-and-white striped canvas tents is an utterly unique experience full of breathtaking amazements. It is called "Le Cirque des Reves," and it is only open at night.
But behind the scenes, a fierce competition is underway–a duel between two young magicians, Celia and Marco, who have been trained since childhood expressly for this purpose by their sponsors and instructors. In isolation and focused on nothing but their individual crafts, the two performers are singular in their purpose as they prepare for the big show. But this is a game in which only one can be left standing, and the circus is just a stage where this dangerous battle of skill and magical power is played out.
In an instant of unexpected magic, Celia and Marco fall deeply and irreversibly in love. Celia, an illusionist, can transform nearly anything using the power of her mind. Marco is able to create entire worlds with the passing of his hand across someone's eyes. They must duel and face each other to see who will win the battle, but neither of them realizes the gravity of the event until they are both in far too deeply to let go of each other.
True love or not, the game must play-out, and the fates of everyone involved hang in the balance, suspended overhead like performers in a circus.
Critical Evaluation
This story was not an easy read for me. I thought the premise of the story was interesting in a Shakespearean way and the characters Celia and Marco felt familiar as Romeo and Juliet. Star-crossed lovers who are pushed and pulled in so many directions that their own free-will gets lost in the shuffle. With familial divisions and choices made for them rather than by them. The tragedy and romance are thick.
But other things are a little too thick as well. There is a lot of telling me about the magic in the air rather than writing the magic so I can feel the air for myself. As a reader, I would rather be brought into the story than simply having the story told to me. I felt like the mystery and emotion in this story had already been decided before I opened the book and that left me wondering what was left for me to really discover on my own.
Reader's Annotation:
A magicians' fight to the death or star-crossed lovers trapped in a circus tent? These two pawns are just part of an elaborate and mysterious age-old battle. Once put in the arena, they must face each other as adversaries rather than the lovers they truly are.
Information about the Author
Erin Morgenstern is a writer and artist and has a B.A. from Smith College. Most of her writings and paintings are fairy tales, in one way or another. She was born and currently lives in Massachusetts. (From the publisher.)
Erin says on her website that she started reading Stephen King when she was 12; J.K Rowling when she was 21, which explains some of her literary style choices. Night Circus is her debut novel and reviews of it have come in across the spectrum – those who love fantasy love it; those who felt it was lacking; and still others who wait to see what the second act will be.
Genre: Fiction; Fantasy-Magic
Awards: Locus Award for Best First Novel (2012), Guardian First Book Award Nominee for Longlist (2011), Mythopoeic Fantasy Award Nominee for Adult Literature (2012), ALA Alex Award (2012), September (2011), Goodreads Choice Nominee for Best Fantasy (2011)
Content Area: Circus, Carnivals; Magic and Supernatural; Romantic Relationships
Booktalk Ideas
Text Measures/Reading Level:
Quantitative: Lexile Measure®:950
Interest Level: Grades 9 – 12
Reading Level: Grade level Equivalent: 7.4
Challenge/Defense: 
Always check the American Library Association website for strategies and tips in handling challenges to library materials at http://www.ala.org/bbooks/challengedmaterials/support/strategies
Additional/Digital Content:
Author Website: http://erinmorgenstern.com/writing/the-night-circus/
Why This Book?
I did not like this book when I tried to read it a year ago, but after hearing from classmates this semester that they had enjoyed it, I decided to try it again. I still have to admit it was not my favorite book, but I am glad I was able to finish it this time.